The TacToys M4 MK4 is simply the BEST performing gel blaster out of the box. Shooting at 280-300FPS, it will definitely make your opponent welt and run crying back to spawn.
Coming from the box with an insane amount of metal parts (listed below), a functional single shot and full auto fire. Also featuring a stage 3 upgrade with 480 motor, metal barrel, upgraded spring, o-ring and metal gears. We have included in this killer package a metal hologram sight, 11.1v battery and B3 Charger as STANDARD!
Designed by TacToys in Australia, the MK4 is a game changer. Exclusively sold at TacToys ONLY! If you want the best and to be the best, then this is the blaster you need.
Features:
- Nylon Gearbox Casing
- Receiver Material: Full High Quality Nylon/ABS composite
- METAL 18:1 Gears
- METAL Trigger
- METAL Rack Piston
- METAL 7 Inch Picatinny Handguard (Reversible - currently in numerical order, hand guard can be reversed to be flush with the receiver)
- METAL Inner Barrel
- METAL Outer Barrel
- METAL Triangle Sight
- METAL Buffer Tube
- METAL Hologram Sight
- METAL Flash Hider
- Upgraded 1.3mm Spring
- High Pressure O-RING
- Upgraded 480 Motor
- Fire Select Switch with Single & Full Auto
- Upgraded Silver Wiring 
- Magazine Prime
- Safety Switch
- Solid Nylon Adjustable Butt Stock
- High Capacity Magazine
Included:
1 x TacToys M4 MK4 - Gel Blaster (METAL & COMP READY)
1 x High Capacity Gel Ball Magazine with Mag pull
1 x 11.1V Li-Po Rechargeable Battery
1 x Upgraded B3 Charger
1 x Metal Hologram Sight (RED/GREEN & Reticle Adjustable)
1 x High Quality Safety Glasses
1 x Gell Ball Starter Pack (Recommended to purchase more)
Firing Power:
Approximately 300 FPS
Firing Range:
30+ Metres
TacToys Exclusive MK4 Gel Blaster Review
Find out everything you need to know about the MK4 before you buy it!
The Metal Series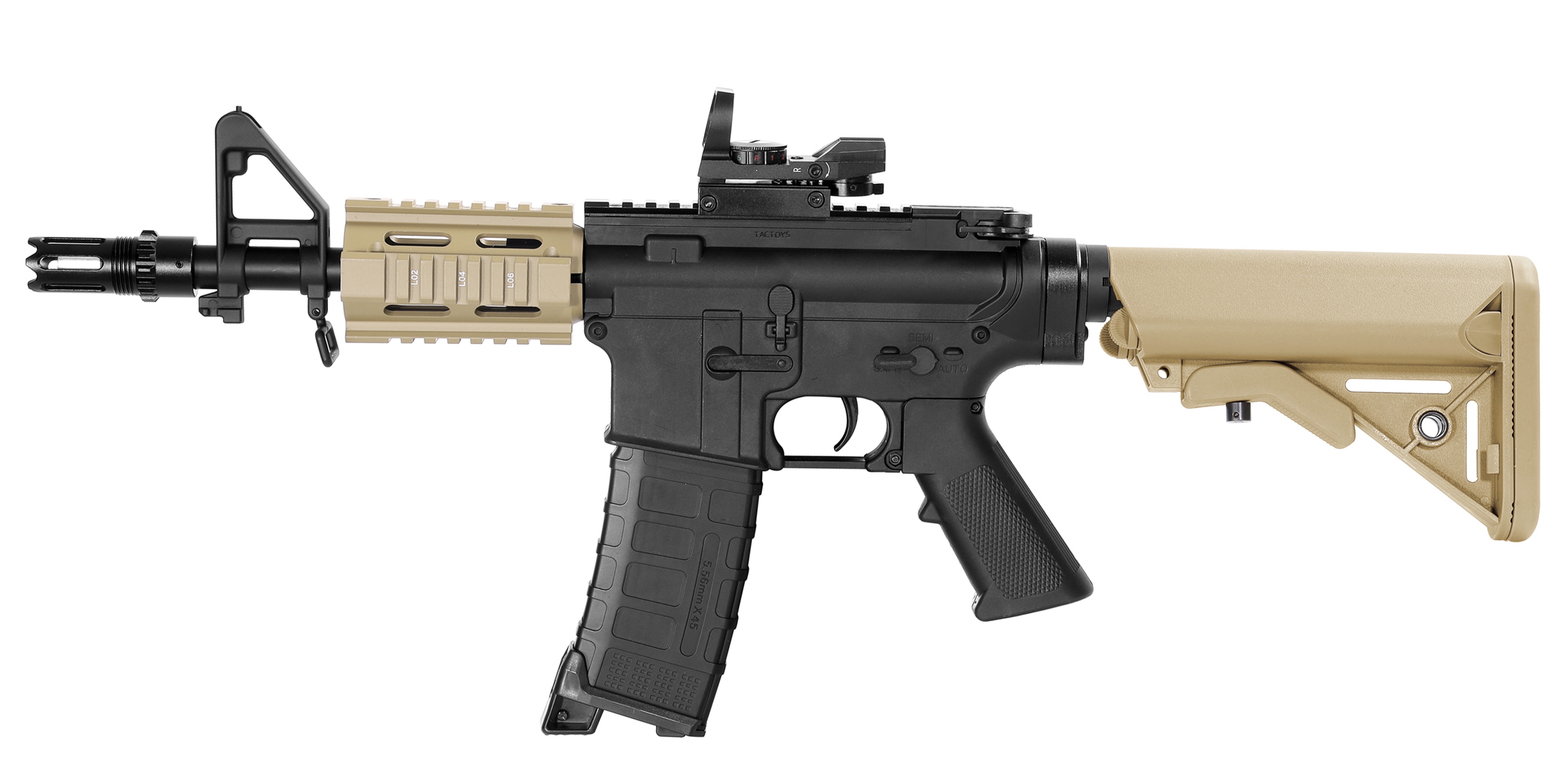 Metal on Metal

Holographic Sight

Massive Magazine Capacity

11.1v Battery Standard
Yes, the TacToys MK4 does have a full metal handguard, but that's not all. It has a metal outer barrel, metal inner barrel, metal muzzle, metal triangle sight, metal holographic sight, metal buffer tube, metal top rail and that's not even mentioning the internals. This thing is SOLID.
We can only name a few blasters that have ever come with a real sight from the box, and TacToys designed 4 of them. The MK4 also comes with a full metal holographic sight that displays 4 different reticles, 2 different colour modes and 10 brightness levels.
The MK4 magazine takes after the nationwide favourite V8, featuring the side open door not the dreaded top entry door. Holding over 200 gel balls in a single magazine, you will not need to reload often at all. This is perfect for those looking to win their battles, not be caught reloading mid game.
Included in the box is an 11.1 volt battery and B3 charger STANDARD! This is only ever seen in TacToys exclusive packages. The 11.1v battery increases the blasters rate of fire by over 50% and the B3 charger helps balance and keep your battery healthy.
Metal Gears Standard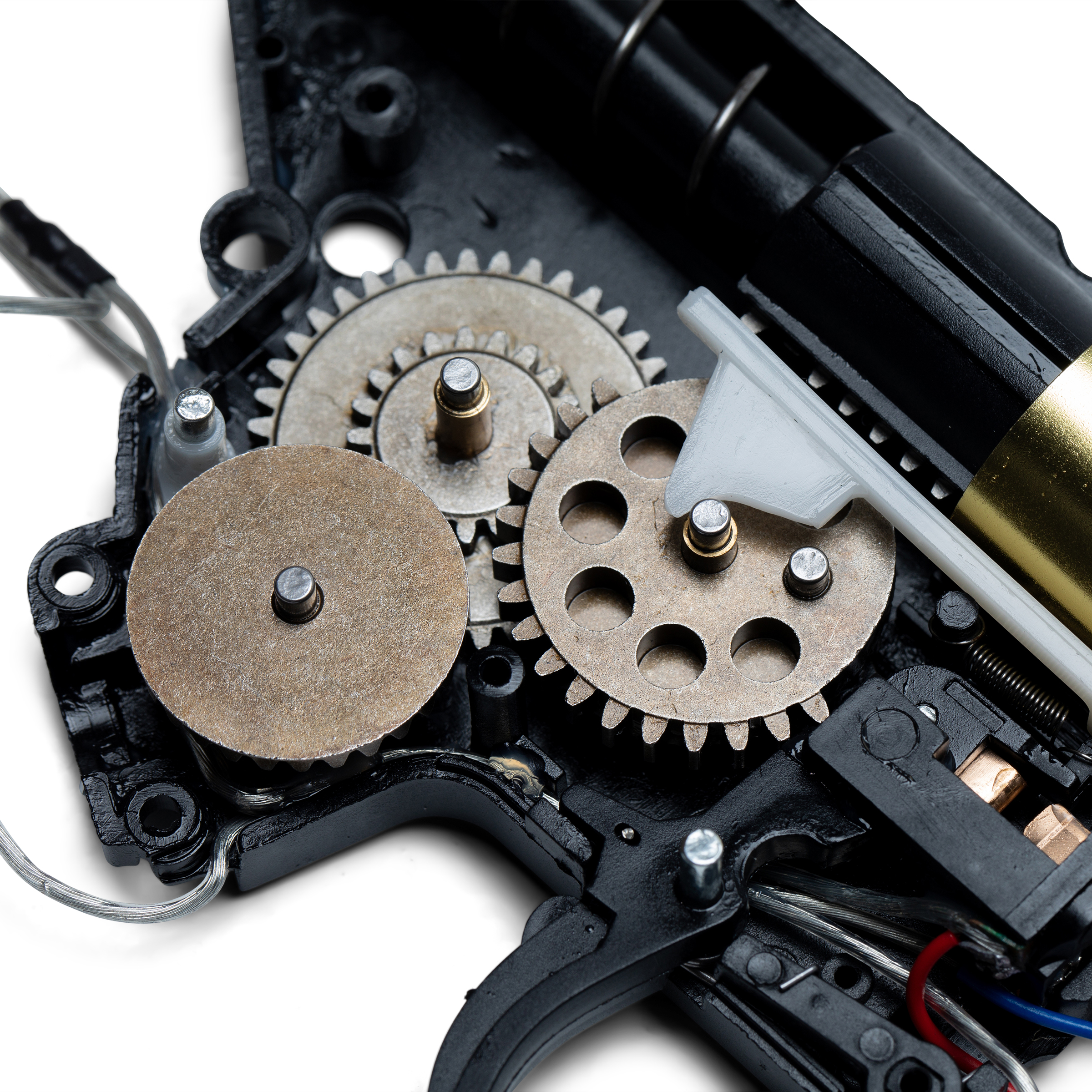 Metal Gears Standard
Yes, we have designed this to come from the factory with metal gears! Most blasters come with plastic or nylon gears and they are not designed to withstand upgraded springs + high velocity. The MK4 holds a 1.3mm spring with ease and provides 280-300fps without breaking a sweat. A metal pinion and metal tooth piston complete the fitout to ensure longevity is always at the forefront.
Three Fire Modes
Whether you are shooting cans in the backyard or your friends on the playing field, the MK4 provides you with the tools neccasary to execute your task effectively! You can choose from SAFE (Locked Trigger), SEMI (Single Fire) or AUTO (Continuous Firing) at the simple flick of a switch.
Three Fire Modes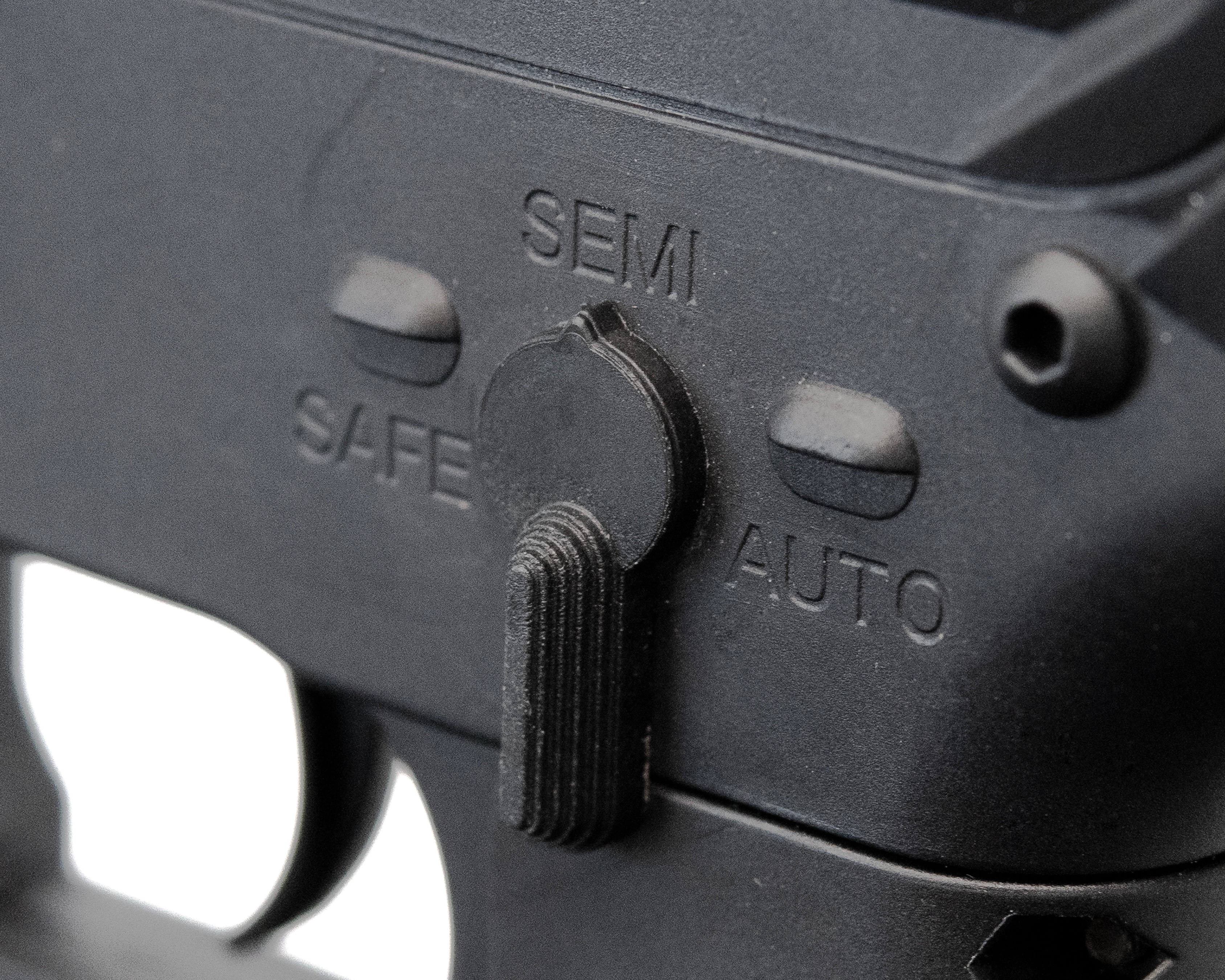 Metal Inner and Outer Barrel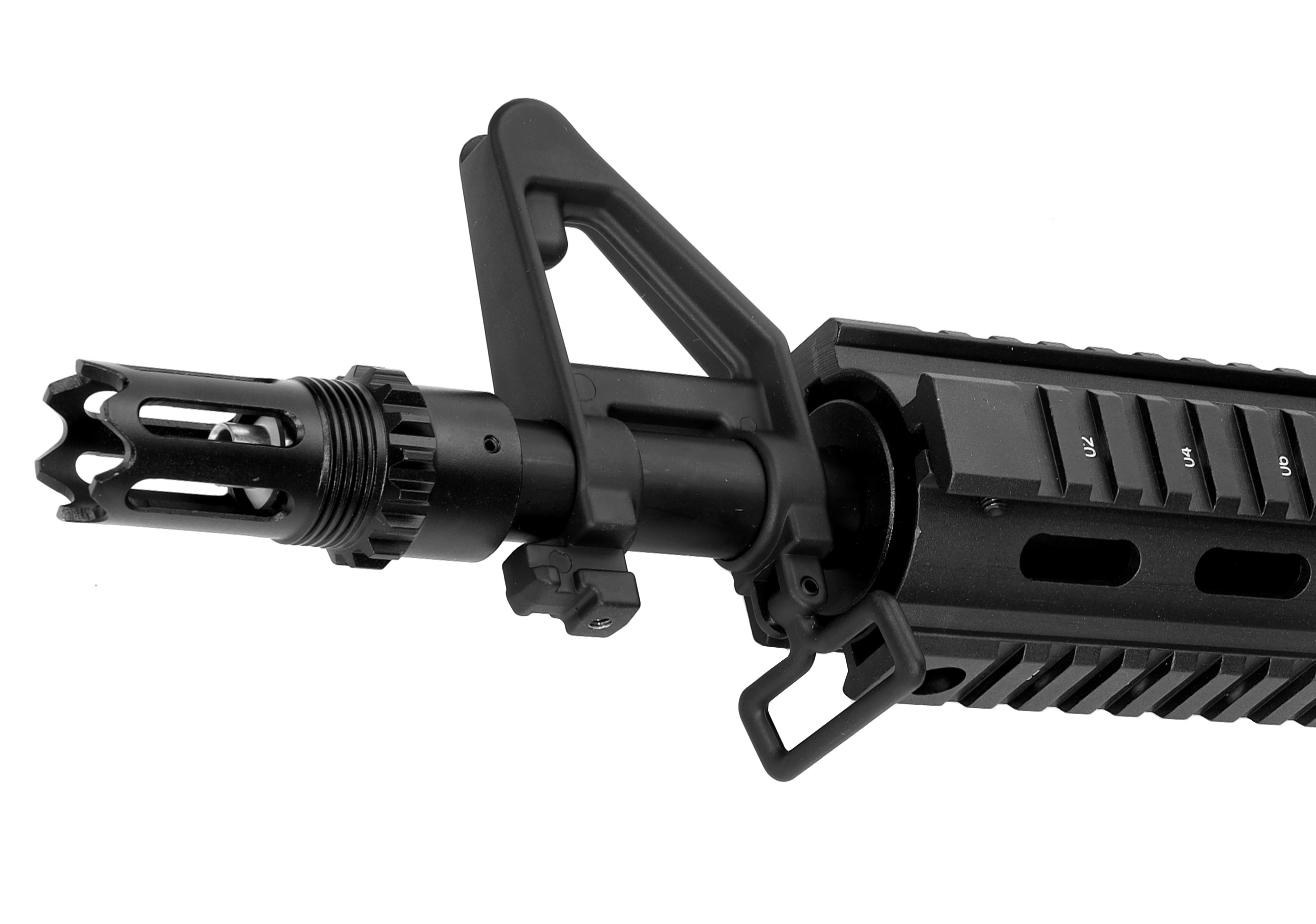 Metal Inner and Outer Barrel
A metal outer barrel is only cool when it is partnered with a stablised metal inner barrel alongside a metal muzzle. The front end of the MK5 does not know the meaning of nylon or plastic, it deals in strictly METAL only.
Battery Protective Fuse
Exclusive to the MK range, you will find battery protective fuses. These are intended to protect your battery from split wiring shortages, dead motors or even in the alternate situation where you battery may cause damage to your blasters internals, it will protect it. If your fuse blows, don't worry we have them in stock at all times for $5.00.
Battery Protective Fuse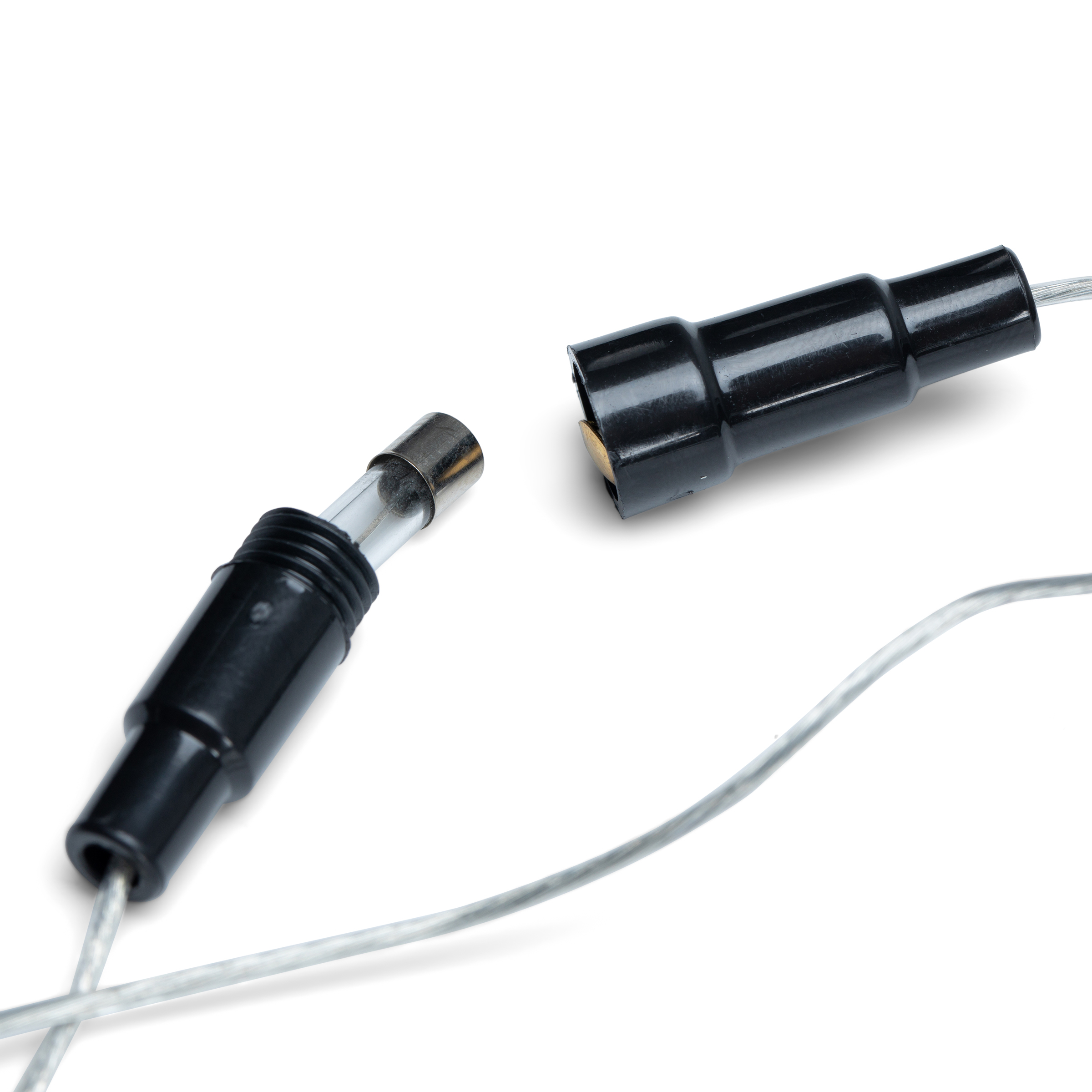 The MK4 Exclusive to TacToys Only
Get Yours Today