The M4 V10 brings everything you love from the M4 V8 but giving you MUCH higher quality materials, select fire and a hop up standard! The V10 has a full nylon construction and a solid, well put-together body. With tan and black options, this is the PERFECT foundation blaster for anyone just getting into Gel Blasters, or looking for a good place to start for a full custom blaster.
- Magazine fed
- Safe, Single and Full Auto Select Fire.
- Mag Prime
- Metal Outer Barrel
- Extendable Butt Stock
- Adjustable Hop Up
- High Capacity Magazine
- Shell Material: Nylon
- Nylon Gears
- Tan or Black
Packaging Contents:
1 x Brand New TACTOYS M4 V10 Gel Ball Gun
1 x Gel Ball Magazine
1 x Front triangle sight
1 x 7.4V Li-on Rechargeable Battery
1 x USB Charging Cable
1 x Muzzle
1 x Safety Glasses 
1 x Gell Ball Starter Pack (Recommended to purchase more)
1 x Adjustable Hop Up
Power Type:
Li-on / Li-Po - Battery (Included) 

Performance:
Approximately 250 FPS - Upgrade to 11.1V Battery for up to 50% increase in firing rate. See Link below: 
Recommended Gels:
7 - 8mm. To purchase the best Gel Balls for this blaster go to the link below:
Warranty:
3 Months (Midrange)
 Please note this product is a Toy. 
TacToys Exclusive M4 V10 Gel Blaster Review
Find out everything you need to know about the V10 before you buy it!
Serious Value for Money
Rock Solid Build

Adjustable Hop Up

High Capacity Magazine

11.1v Battery Ready
The M4 V10 boasts serious quality with an almost full nylon construction with added pieces of metal throughout to compliment the solid build. There is little to no flex throughout the body, and you can be confident that when you grip your blaster, it can handle your strength.
Previously you would need to spend well over $500 to consider having your hop up included in the box. Those days have now past with the introduction of the V10! It comes with an adjustable hop up to increase your distance up to 5-10 meters FREE.
Believe it or not, over 200 gel balls fit in each magazine of the M4 V10. This means you will not only be reloading A LOT less, but be able to hit the other team while they are busy reloading!
Future Proof V2 Gearbox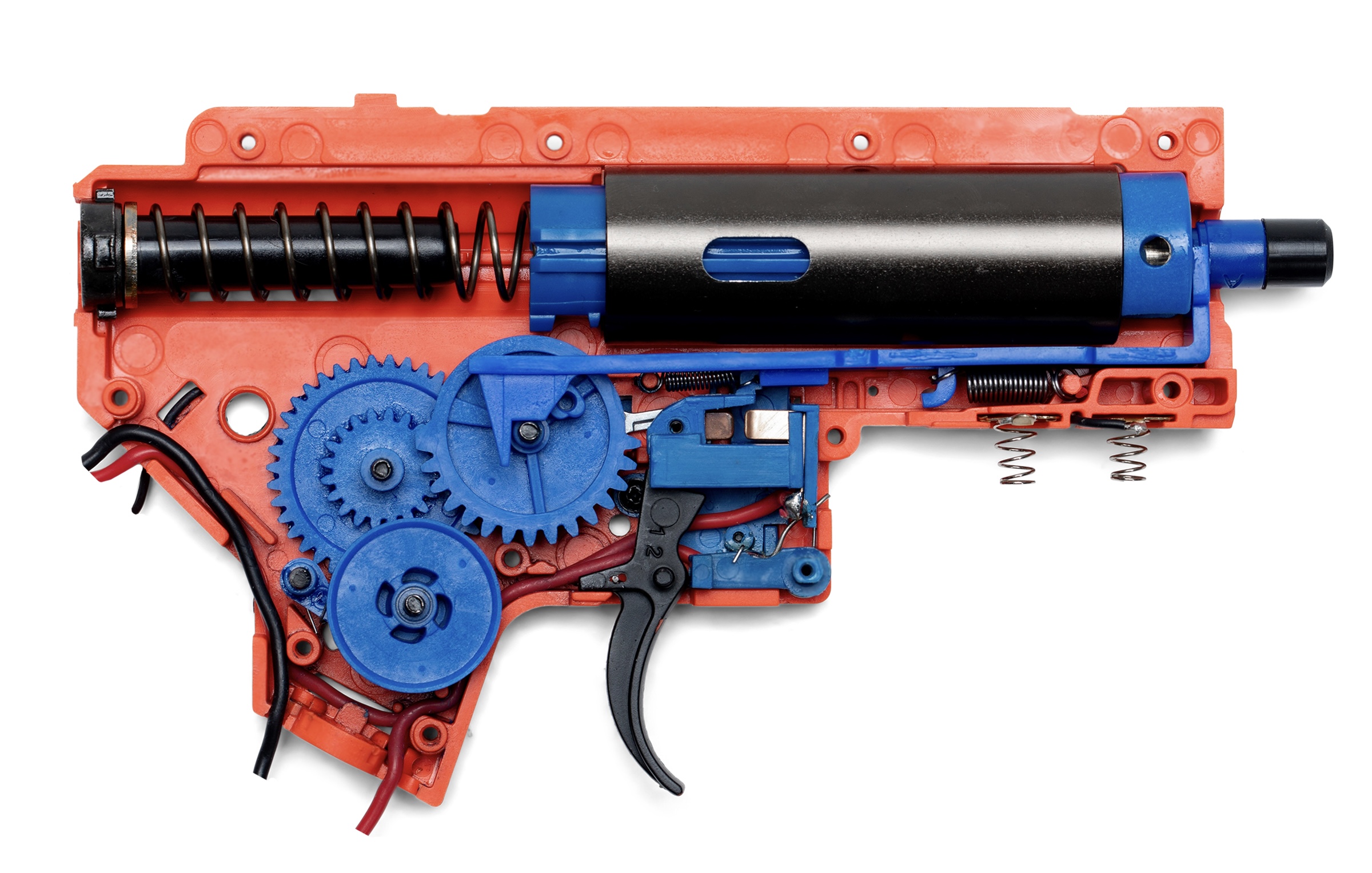 Future Proof V2 Gearbox
The V10 brings along a V2 style gearbox with full nylon internals throughout. These are hardened nylon, meaning you are able to run an 11.1v battery and an upgraded 1.3mm spring in the future! Whether you are using this as a starter blaster or the foundation of something more, you will **NOT** be dissapointed with it's quality. Also, don't be fooled by the contrasting bright colours, it is designed to help you easily define individual parts when altering or modifying your gearbox in the future. You will be thankful for it if you have experienced any other gearbox.
Three Fire Modes
Whether you are shooting cans in the backyard or your friends on the playing field, the V10 provides you with the tools neccasary to execute your task effectively! You can choose from SAFE (Locked Trigger), SEMI (Single Fire) or AUTO (Continuous Firing) at the simple flick of a switch.
Three Fire Modes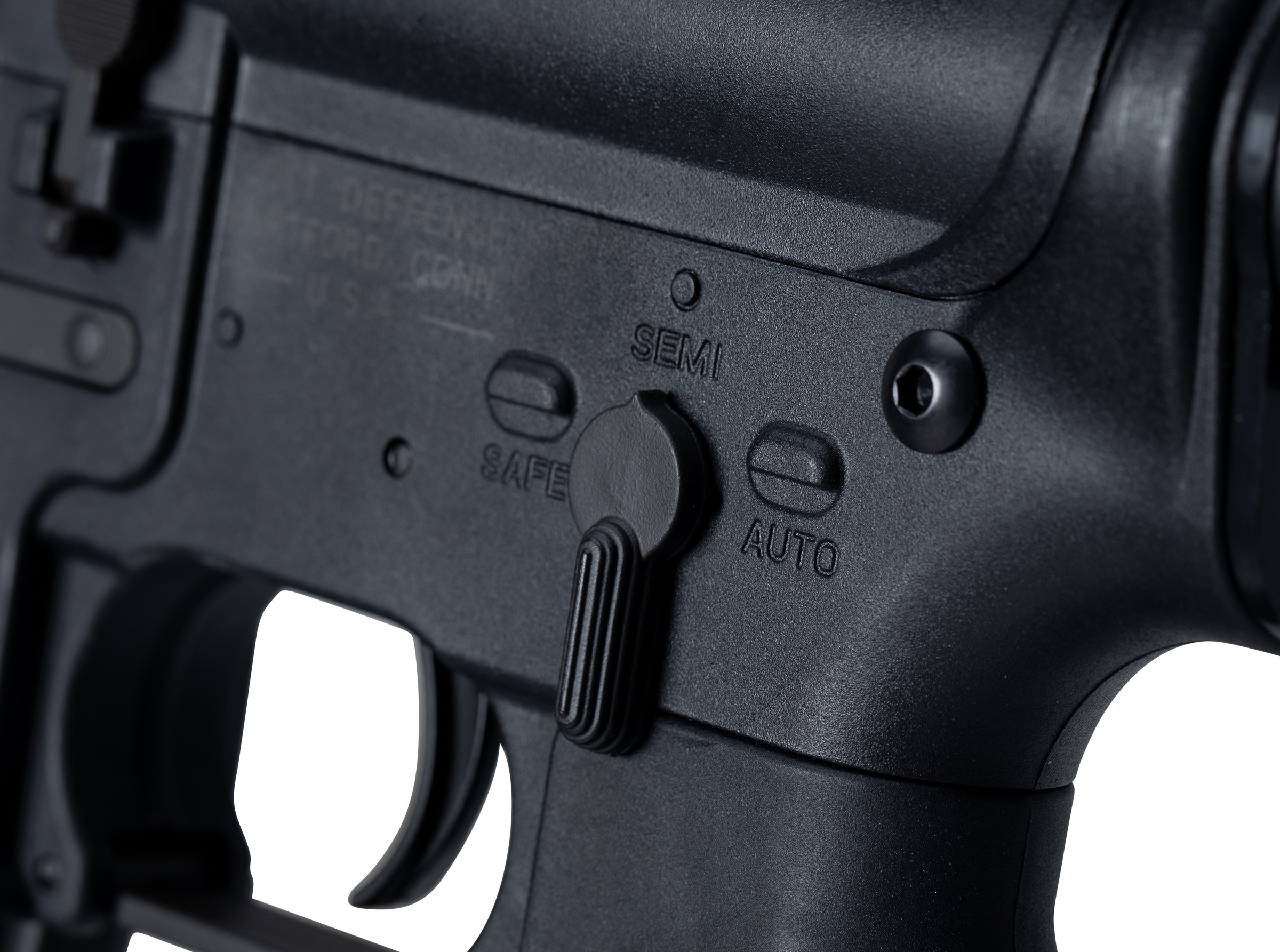 Threaded Metal Outer Barrel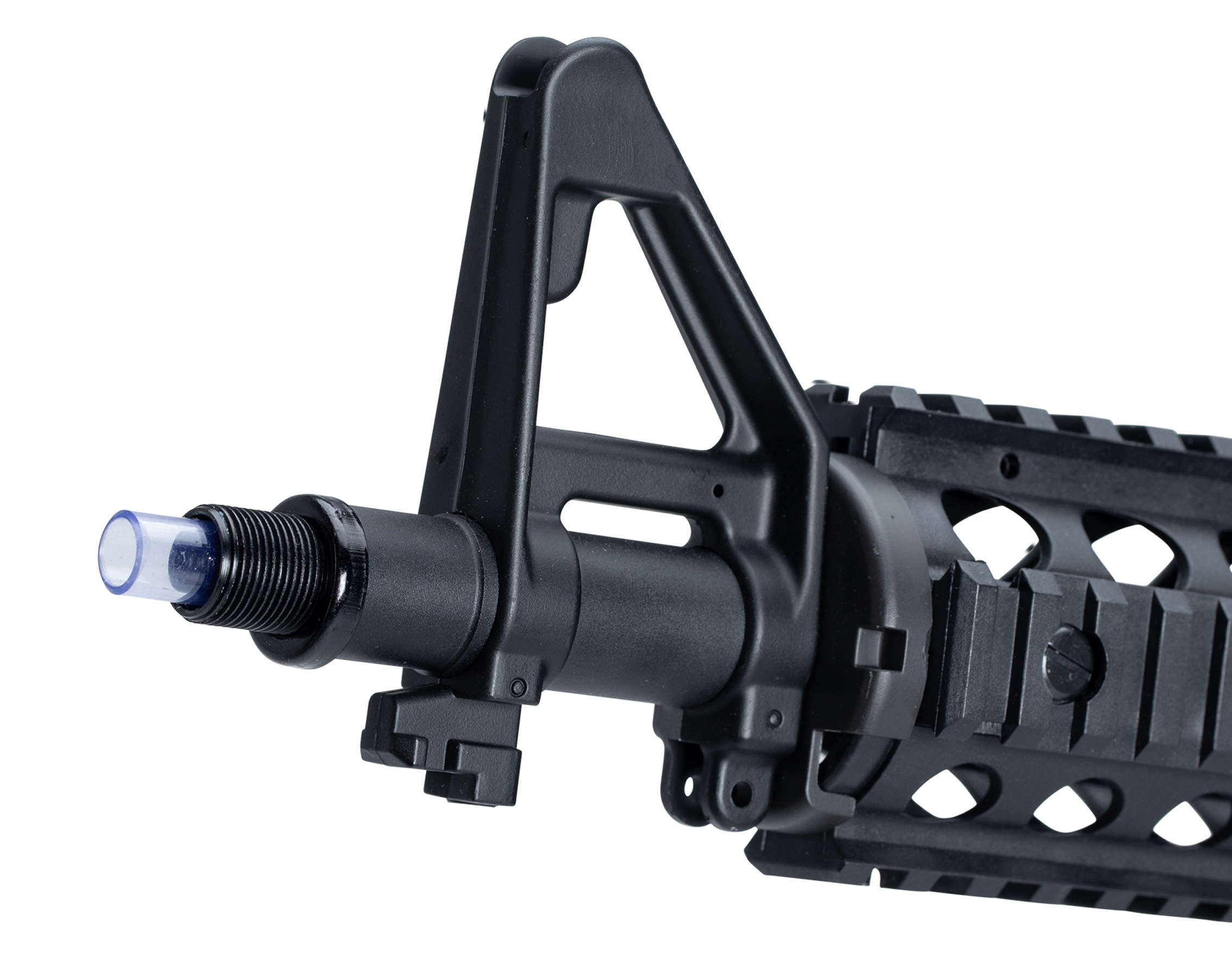 Threaded Metal Outer Barrel
Not only does a metal outer barrel increase the weight of the blaster, but it also gives you a highly durable thread that is going to reduce the likelyhood of cross-threading when attaching hop-ups and/or suppressors. Having a metal outer barrel ensures longevity in a blaster, and is commonly seen in only very high end builds.
Huge Battery Storage Space
The M4 V10 comes with one of the most desired styles of buttstocks, it also features storage space for up to 3 long cell batteries at one time. You are able to insert a battery either side of the buffer tube and one inside of the buffer tube. Why is this important? Well when you are on the field and you run out of battery, usually you will need to go back to spawn and change your batteries! With this system, you will need about 10 seconds and you are ready to go with a fully charged battery, no need to ruin your game.
Huge Battery Storage Space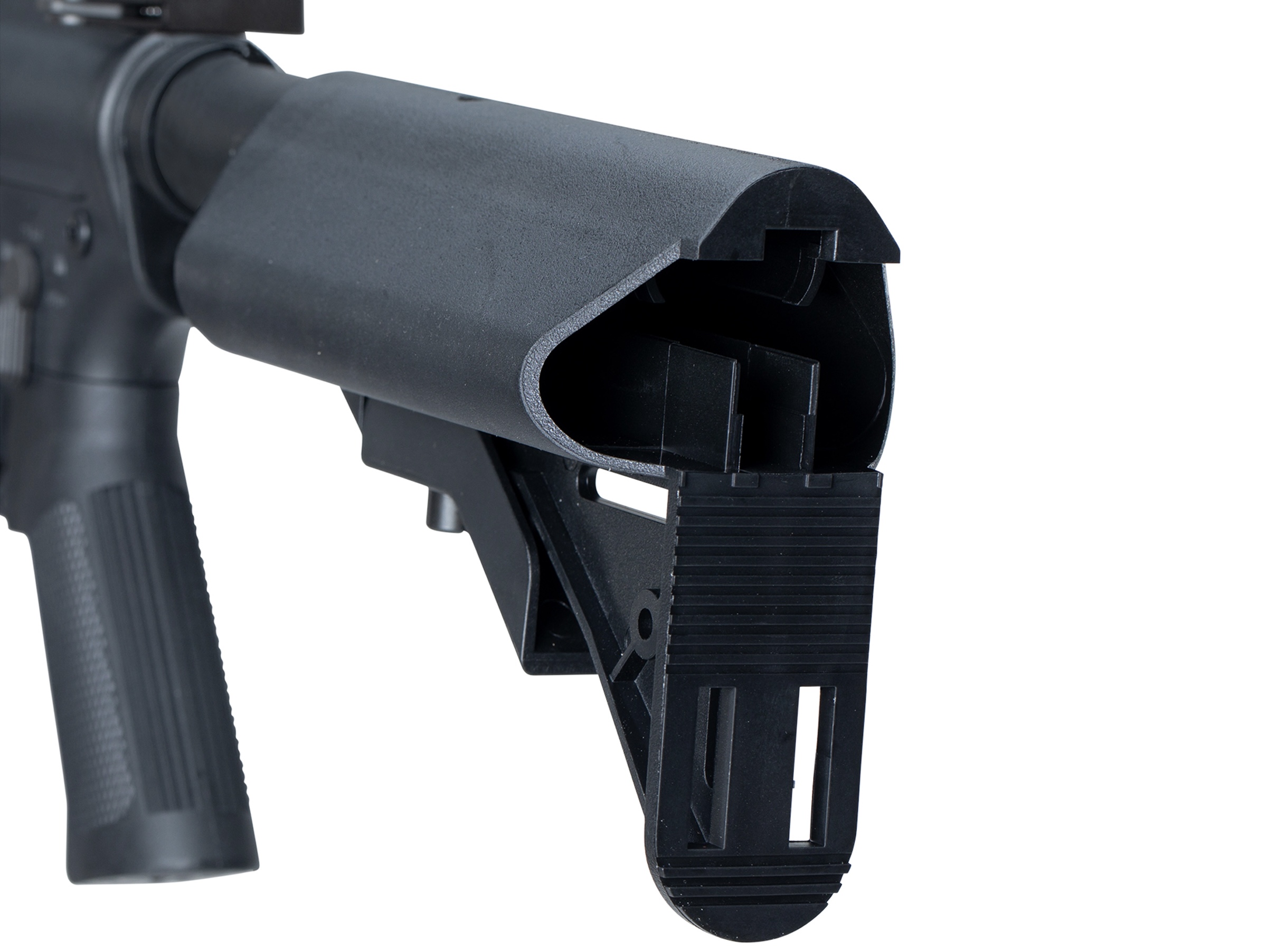 The M4 V10 Exclusive to TacToys Only
Get Yours Today