Experience the power and precision of the Golden Eagle 1911 gel blaster. This high-quality gel blaster is based on the classic design of the 1911 pistol, featuring a full metal frame for durability and realism, with replaceable polymer grips for customisation and comfort.
The Golden Eagle 1911 gel blaster offers smooth and reliable blowback action, with a responsive trigger pull and a hop-up system for enhanced accuracy. Whether you're a collector or an avid gel blaster enthusiast, this pistol is a must-have for anyone looking for a reliable and high-performance gel blaster.
- Type: Gas Powered
- Gas Type: Green Gas
- Can run on Green gas or CO2
- Material: Full Metal
- Durable heavyweight aluminium slide assembly
- Metal body, Metal alloy frame and Metal trigger
- Extended Beaver Tail Grip Safety
- Competition Style Hammer and Trigger
- Metal Outer Barrel
- Metal Inner Barrel with Hop Up 
- Customizable/ Removable M1911 Style Grip Panels. 
- Gas blowback 
Firing Power: 300 - 320 FPS
Warranty: 6 months (Premium)

Recommended Gels:
7 - 8mm. We recommend to use the hardest gels possible with gas powered gel blasters otherwise you will encounter feeding issues and gels breaking upon use. For best performance we recommend using our new Ronin Gels. Available for purchase here: 
Ronin Gel balls - (ULTRA HARD & CONSISTENT)

Maintenance:
Gas Blow Back Pistols require a high level of maintenance, warranty can be voided when not properly maintaining a gas pistol. We recommend a combination of thicker silicon oil or grease for your slide and lower rails (any part that experiences metal on metal contact friction), and lighter silicon oil for your nozzle and, magazine valves, available for purchase here:
Exhaust and fill valves on the magazine may occasionally need adjusting or re-lubricating. A valve key tool is required for maintenance on your gas magazines, available for purchase here:
Gas/CO2 Magazine Valve Key Tool

Please note this product is a Toy. 
Golden Eagle G3305 1911 (Black) - Preview
Glimpse into the historic masterpiece of the 1911 before you buy it!
Timeless Excellence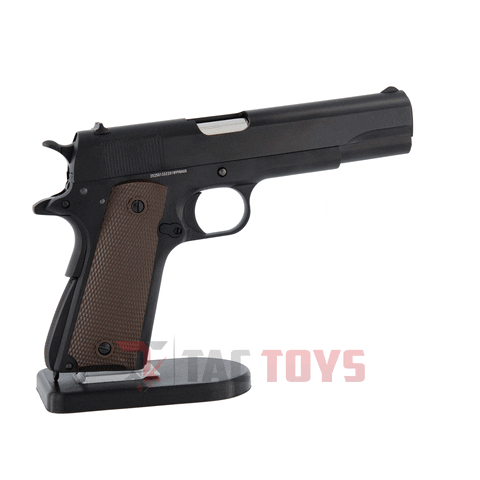 Gas Operated

Internal Hop Up

Spring Fed Magazine

Heavy & Realistic Blow-Back
The gas used in Gas Blow-Back pistols is typically propane, green gas, or CO2, which is stored in a small container in the gun and released when the trigger is pulled, creating a burst of pressure that propels the gel ball forward!
A Hop up is an absolute necessity if you want to increase your range, accuracy, and have tighter groupings. Now you don't have to worry about upgrading to one because an Internal Hop Up is pre-installed in the blaster!
The Golden Eagle 1911 features a spring-fed magazine with a gel ball capacity of 15-17. Perfect as a Side-arm out in the field or providing a form of realistic drill practice!
The 1911 boasts a heavy and realistic gas blowback system that mimics the recoil of a real firearm, enhancing the authenticity and immersion of your gel blaster experience!
Modular Platform
Modular Platform
With its faithful design paying homage to history, the 1911 stands as a timeless masterpiece that empowers collectors to effortlessly customize their blaster, creating a truly personalized work of art. Explore a vast array of enhancements, from tasteful cosmetic modifications to precisely engineered functional upgrades, and let your passion for historic authenticity shine through every meticulously tailored detail.
Attention to detail
The attention to detail on this platform is truly impressive. From the realistic blow-back action and smooth trigger pull to the textured grips and precise sights, every element of the blaster has been carefully crafted to provide an unparalleled Gel blaster experience.
Attention to detail
High-grade construction
High-grade construction
High-quality materials and components were used in the production of the 1911 resulting in a robust and dependable structure that is intended to survive even the most trying Gel blaster conditions. A realistic shooting experience is provided by the gun's smooth blowback action and precise trigger pull. The Blaster is a favourite pick for both recreational gel blaster admirers and avid collectors due to its high-performance internals, which consistently offer precision and power.
Gas Powered
This 1911 is gas-powered, which means it propels the gel ball from the Blaster's magazine with compressed gas. This gas-powered technology outperforms other types of Gel blasters, such as electric or spring-powered blasters. For one thing, gas-powered Blaster guns are more realistic and have a more natural weight and feel while shooting. This model's functioning is specifically powered by green gas or propane, which provides a dependable and consistent source of power that ensures consistent and accurate shots.
Gas Powered
Embrace history with the 1911
Get Yours Today